Affidavit of Support : Immigration Form I-864 Explained
Gets the Basics on the Form I-864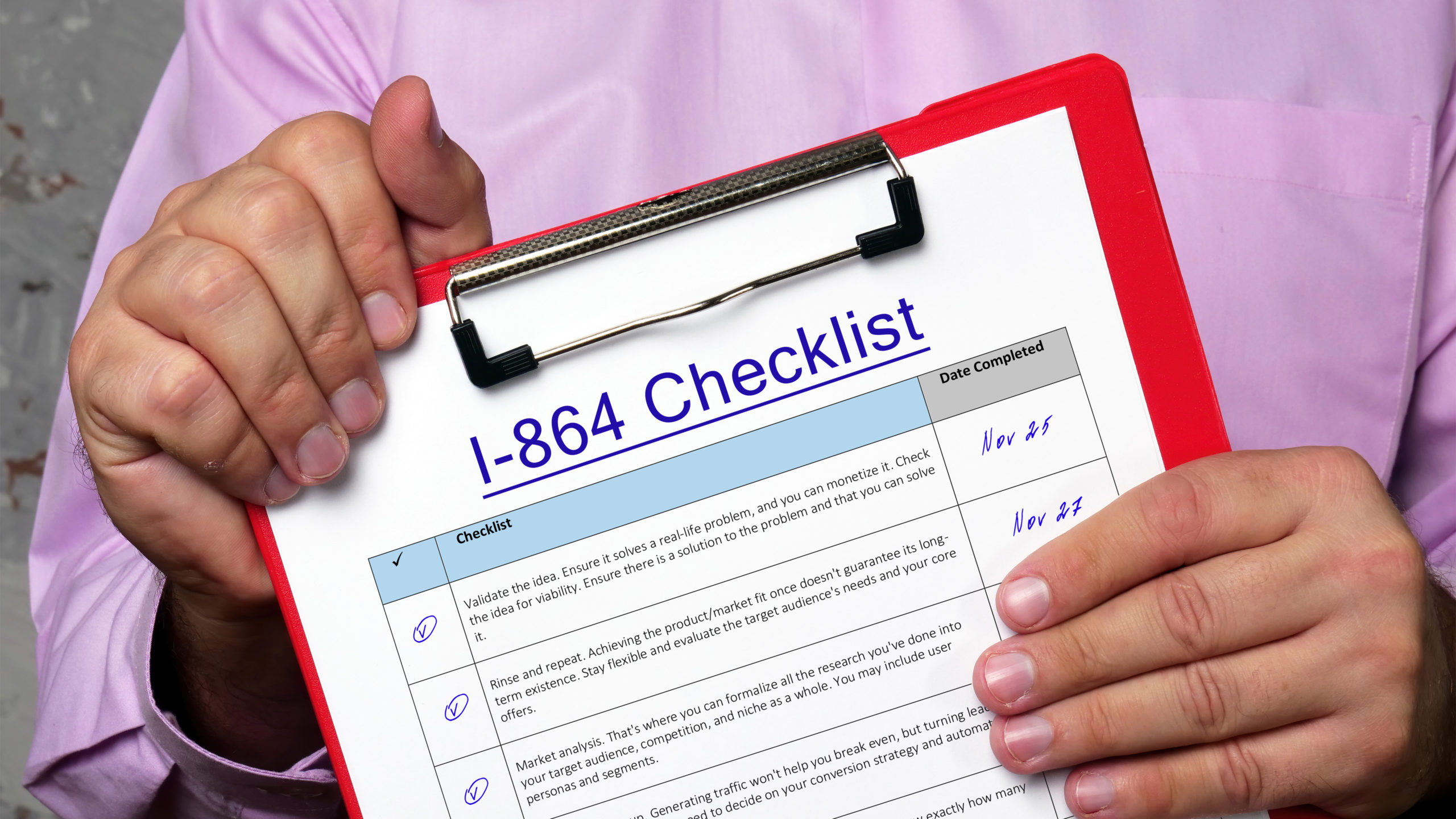 If you're a permanent resident or a U.S. citizen and you want to help a qualifying family member become a lawful permanent resident of the United States, you can file a petition with U.S. Citizenship and Immigration Services to request an immigration visa for them. 
As a part of that process, you'll be required to provide a lot of documents and fill out a lot of forms. The Affidavit of Support is one of the most important forms you'll need to file for an intending immigrant in your family.
If you're just beginning the process of petitioning for your family member to immigrate to the United States, here's what you need to know about the Affidavit of Support document and how to complete it. 
What Is the I-864 Affidavit of Support?
When you petition to obtain a green card for a family member, the U.S. Government will allow them to immigrate under a specific set of conditions. One condition is your immigrant relative cannot become a public charge or burden on the United States government. 
When you serve as a petitioning sponsor for them to come here, you're agreeing to handle some of their debts and expenses until they're able to provide financial support for themselves. 
The I-864 Affidavit of Support serves as your secure and binding agreement with the government that you assume liability for your qualifying immigrant relative's financial wellbeing. It outlines the conditions you need to meet, the responsibilities you agree to take on, and what will happen if you fail to meet those conditions and responsibilities.
What Does an Affidavit of Support Mean?
When you sponsor a family member's immigration into the United States, you're responsible for supporting them financially according to the following terms:
Sponsorship lasts until your family member has accumulated 10 years' worth of Social Security Act work credits or achieves naturalization, whichever comes first;
Your family member moves back to their home country permanently; or
Your family member passes away.
If you are married to the person you're sponsoring and you wind up getting divorced, your divorce doesn't end your financial sponsor obligations unless your spouse returns to their home country after the divorce.
You agree to ensure your family member does not accept "means-tested public benefits," which refers to public assistance provided by the government. If your family member files for government benefits like food stamps, Medicaid, Supplemental Security Income (SSI), or Temporary Assistance for Needy Families (TANF), the government can pursue you for the total cost of paying out their benefits. 
The government can file a lawsuit against you, seeking to recover the total cost of means-tested benefits the immigrant you sponsored has received. The government usually wins these lawsuits because if the individual used means-tested benefits, that means you breached your sponsorship agreement.
What Are the Requirements for an Affidavit of Support Form?
You must be at least 18 years old to file an affidavit of support. You must live in the United States. Lawful permanent residents can petition for alien relatives, including their spouse, unmarried children under 21, and their unmarried adult children to receive an immigrant visa. U.S. citizens can petition for their spouses, unmarried children under 21, parents, siblings, and adult children whether married or not. 
An affidavit of support makes the petitioner prove that they're financially capable of providing for the immigrant they sponsored. You must be able to prove that your household income is at least 125% of the current federal poverty guidelines level for a similar household. 
If you're an active duty military member sponsoring a family member, you only need to prove that you're at 100% of the poverty level. You cannot be below the poverty level.
You're required to submit your most recent tax return and proof of employment with your affidavit of support. These serve as proof of income and show that your employment is ongoing. You can also use assets and/or a combination of assets to meet the requirements. Using assets to meet the financial requirements is a little more complicated. 
What If I Don't Meet the Minimum Income Requirement for an Affidavit of Support?
The income requirements for an Affidavit of Support are found on Form I-864P. Modifications to the requirements can be made for residents of certain states and members of the U.S. Armed Forces. You'll have to present your most recent federal income tax return as part of your Affidavit of Support, as well as information regarding your household size.
If you don't meet the income requirement for an affidavit of support based on your current employment, you can use a joint sponsor. 
Your joint sponsor is someone with financial resources who enters into the sponsorship agreement. They don't have to have a direct family-based relationship with the immigrant you're sponsoring. For example, you can ask a close friend or a relative-in-law to be a joint sponsor.
Your co-sponsor must be a United States citizen or a lawful permanent resident over the age of 18. Your joint sponsor must live in the United States. Your joint sponsor's household income must be at least 125% of the poverty level. You cannot combine household incomes to meet the 125% requirement.
When a joint sponsor becomes involved, they're subject to the same rules that the original sponsor is subject to. Their sponsorship commitment will last up to ten years, and the government can pursue them to recover means-tested benefits the sponsored immigrant uses. 
When Should You File an Affidavit of Support?
If you're petitioning to bring a family member who is living overseas to the United States, you will file your Affidavit of Support around the time that they submit their immigrant visa application (DS-260). The intending immigrant will also take an updated Affidavit of Support to their interview. Your relative will not be scheduled for an interview until a proper Affidavit of Support and supporting documents is received by the National Visa Center.
Your relative will not be approved for an immigrant visa if your Affidavit of Support isn't accepted. It's important to be sure that you've filled the affidavit out correctly, properly documented your income and/or assets, and that you legitimately meet the minimum requirements in the eyes of a consular officer.
If you're petitioning for someone who is in the United States and eligible to adjust status, you will file your Affidavit of Support along with their application to adjust status. 
What If My Affidavit of Support Is Incorrect?
If your Affidavit of Support was filed incorrectly or didn't contain the right information, it will be rejected and you can refile it. If the United States government office that receives your petition feels that you knowingly or willingly provided false information on your Affidavit of Support, you can and will be criminally prosecuted. 
It's very important to be as thorough and accurate as possible. You should never "stretch the truth" when filling out an Affidavit of Support for an immediate relative. The potential penalties from the government agencies that preside over immigration law are too severe.
Who Doesn't Have to File an Affidavit of Support?
An affidavit of support is a signed form that is almost always necessary when you sponsor an immigrant's eligibility for entry into the country. However, there are some exemptions.
You do not have to file an affidavit of support for an immigrant who has accumulated 40 quarters of work (about 10 years) in the United States. If your family member is currently in the United States on a non-immigrant work visa that they've continuously renewed, they've already demonstrated that they're capable of financially supporting themselves. 
You don't need an affidavit of support for some immigrants who have petitioned for themselves with Form I-360, Petition for Amerasian, Widow(er), or Special Immigrant. Widows, widowers, special immigrant juveniles, and people who can claim Violence Against Women Act (VAWA) status aren't required to receive affidavits of support. This applies to people who have suffered abuse, including their children. In many circumstances, people in these dire situations are allowed to claim some means-tested public benefits without repayment. 
Affidavits of support are sometimes not required for overseas adoptions. If the child was fully and legally adopted before gaining permanent resident status in the United States and both adoptive parents have visited the child at some point during the adoption process, the orphan child doesn't require an Affidavit of Support for immigration.
Do You Need an Immigration Lawyer's Help With Your Affidavit of Support?
The complete form for an Affidavit of Support can be hard to get through. It's important to be sure that you meet all of the minimum requirements, the paperwork is accurately filled out, and every necessary supporting document is attached to your affidavit. A compassionate and knowledgeable immigration attorney can walk you through the process of completing an Affidavit of Support the right way.
The Cohen, Tucker & Ades team has been assisting families with immigration law for over 40 years. We understand how important it is to keep your loved ones close to you, even if they need to cross oceans to reunite with your family. Contact us if you'd like our help completing immigration forms or processes like the I-864 Affidavit of Support.
Sources:
I-864, Affidavit of Support Under Section 213A of the INA | USCIS
I-864, Affidavit of Support Under Section 213A of the INa | USCIS