Your Complete Guide to Form I-765
What You Need to Know About Applying for Employment Authorization Documents?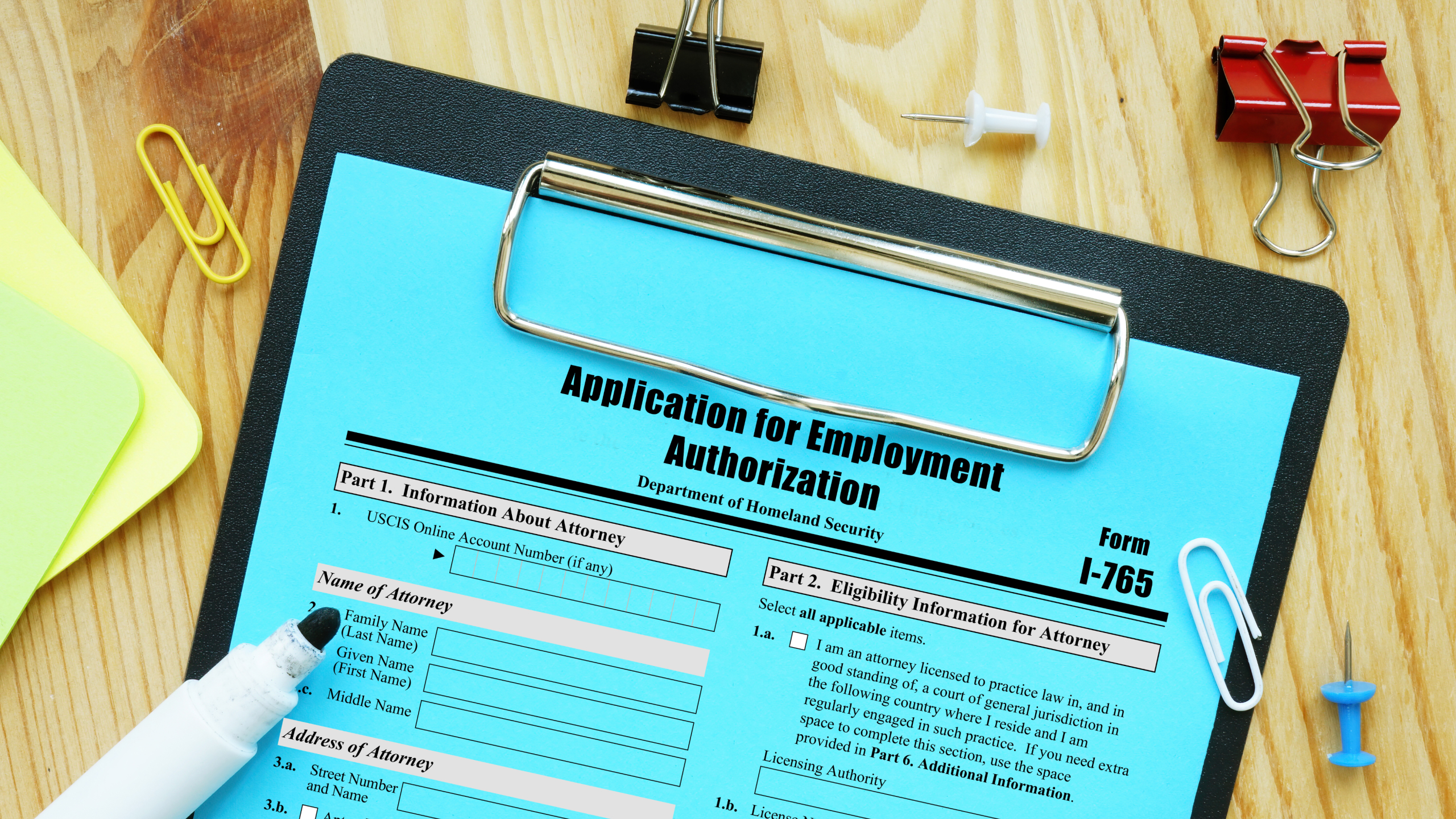 Form I-765, Application for Employment Authorization, allows foreign nationals to apply for an Employment Authorization Document they'll need to work in the United States. 
Processing times for Form I-765 can be long, which is why it's so important to be sure you've submitted it correctly the first time. Here's what you need to know about Form I-765 and how the process works.
What Is Form I-765?
USCIS Form I-765, Application for Employment Authorization, is the form that foreign nationals use to request an Employment Authorization Document (EAD). The EAD makes it possible for United States employers to hire foreign nationals. Most foreign nationals in the United States are only allowed to work with an EAD. 
After the form is completed and submitted to USCIS, USCIS will process the form. If it's approved, you'll be granted an EAD. As soon as you have your EAD, you're eligible to work in the United States.
Who Needs Form I-765?
Most foreign nationals cannot utilize public aid or public funding to meet their needs, like housing costs or medical bills. The only exceptions are certain types of refugees, people who received visas through the Violence Against Women Act, or crime victims working with the United States government.
Most foreign nationals with life expenses will need to find employment in the United States, and they can only do so once they've received a work permit.
Almost all foreign nationals who intend to work in the United States must file Form I-765. Foreign nationals in the United States must be financially self-sufficient, which means they must be able to support themselves. 
They can also be supported by a permanent resident or United States citizen who agrees to provide for them throughout their stay. 
Who Doesn't Need Form I-765?
Work-related visas imply you came to the United States for a specific job. You're authorized to work in the United States when you enter the country with a work-related visa. You can also change your nonimmigrant status to one that allows for work while in the U.S. (i.e. changing from F-1 student status to H-1B status).
Your ability to work in the United States lasts as long as your nonimmigrant status. If your status is extended, so is your authorization to work. You don't need a separate document or an additional application. Individuals who do not require an EAD include:
E (investor/traders visa)
H-1B (specialty occupations)
L-1 (intracompany transferees)
O visas (extraordinary ability or achievement)
P visas (artists, performers, athletes, and actors)
TN visas (NAFTA professionals)
Lawful permanent residents (green card holders)
People who do not intend to work in the United States
If you complete the process of becoming a permanent resident, you no longer need special authorization to work in the United States. Permanent residents have many of the same rights, abilities, and responsibilities as United States citizens. Your social security number and state-issued ID card work together to prove your ability to work in the United States.
You also do not need to apply for a work permit if you don't intend to work in the United States. If your spouse is the primary provider or if you're retired, there's no reason to have work authorization.
How To Fill Out Form I-765
Form I-765 might look intimidating, but it's relatively simple. The longest portion of the form asks for biographical information about you. The more complicated part is the section regarding what makes you eligible for an employment authorization document. 
If you have trouble reading English, you can use an interpreter's assistance to complete your form. Your employer may be able to help you find assistance.
Part 1: Reason for Applying
This part of the application gives you three reasons for filing the form. 
Check the first box if you've never applied for an Employment Authorization Document. If you've lost your EAD or need to correct it due to a mistake you've made, check the second box. Check the third box if you're filing for a new EAD because your current EAD will expire soon.
Part 2: Information About You
This is the longest part of the form. Most of the information should be easy to provide. USCIS wants you to verify basic details, like your name and address. 
They'll also ask if you're applying for a social security number. If you do not already have a social security number, you should check "yes' so a card is automatically sent to you.
This portion also asks for information about your family and country of origin, which you should know the answers to. It will ask you questions you may need to research. 
You'll need to know the date of your arrival in the United States, when you arrived, your alien registration number, passport number, and visa category.
Your employer can provide the eVerify information you need to complete questions about your employer. 
If applicable, you must also provide proof of your documented residency within the United States or proof of a pending application.
Part 3: Applicant's Statement, Contact Information, Declaration, Certification, and Signature
Part 3 requires you to certify that you understood and answered the questions honestly under penalty of law. You may face consequences if you willfully omit specific details or provide false information to USCIS.
You may need to refer to your passport and other official documents issued to you by USCIS to find the answers to these questions. It's essential to double-check and make sure you're giving USCIS the correct information. 
If you make any mistakes, your application can be rejected, and you must file again. This will repeat the waiting process, and you don't want to do that. It's best to ask an immigration lawyer for help if you're unsure what USCIS is asking for or how to find that information. 
Part 4: Interpreter's Contact Information, Certification, and Signature
Your interpreter should complete this part of your application if you used one to complete the application. If you did not use an interpreter, you could write "N/A" (for not applicable) in every box. 
Part 5: Contact Information, Declaration, and Signature of the Person Preparing This Application, If Other Than the Applicant
If someone else fills out your application, they will complete this section. If a lawyer completes the form for you, they'll use this section. If you filled out the application on your own, you could write "N/A" (for not applicable) in every box. 
Part 6: Additional Information
You can use the boxes in this application section to provide details if you must provide additional information or clarification. There is a place at the top of each box to describe which section you're referring to. This section is used to provide additional proof or explanations for sections of the application that require extra clarity. 
For example, if you married and changed your name, you would clarify your name change in this section. You can also use this space to clarify dual citizenship status if your country of birth differs from the country you lived in when you immigrated to the United States.
How Long Does It Take To Process Form I-765?
Processing times for Form I-765 can vary significantly depending on your service center where the application is processed and the reason for your application. Processing times are generally faster for people who arrive in the United States under urgent circumstances like approved refugees or asylum seekers.
General processing times for other types of immigrants can be as long as 19 months. Some service centers complete processing in as little as five months.
USCIS processing times can be somewhat unpredictable. They largely depend upon the backlog of cases USCIS is currently processing. 
USCIS has made strides to process Form I-765 and extend Employment Authorization Documents as quickly as possible because they understand that it's essential for immigrants to support themselves and for EAD recipients to keep their jobs.
It can take much longer to process Form I-765 if the forms are incomplete, improperly completed, or found to contain errors. You don't have the option to correct a form and save your place in the processing queue. 
If your form is rejected, you must resubmit it correctly and lose your place in line. The waiting process starts all over again. It may be worth asking an experienced immigration attorney for help if you're unsure how to complete the form properly. This can help avoid accidents or errors that cost you precious time.
You can use the USCIS processing times tool to check average processing times for your circumstances and service center. Processing times show the average time for 80% of all applicants. 
You can expect your form to be processed within that time frame if you complete and submit the form correctly. 
Is There Premium Processing for Form I-765?
USCIS continues to expand its premium processing options for people who would rather skip the wait. 
Premium processing ensures that a form will be fully processed by USCIS at a faster rate, usually within 15-45 days. Premium processing fees vary but are generally between $1,000 and $2,500. 
Premium processing for Form I-765 is currently only available to select eligibility categories. Students in the United States on F visas seeking pre- or post-completion OPT or STEM OPT are allowed premium processing. USCIS may expand premium processing to other classifications in the future. 
If your need for an EAD is an emergency, you can contact USCIS and request that they process your application faster. They will consider compelling circumstances if your need for an EAD is urgent. 
How Long Is an Employment Authorization Document Valid?
An Employment Authorization Document will be valid for up to five years, depending on the category under which you are filing. EADs for people admitted under asylum or refugee visas generally last longer than EADs issued under other circumstances. The expiration date of the EAD will be printed on the document. 
It's essential to be mindful of the expiration date to avoid losing your ability to work. If your EAD expires and you don't receive a new one before the expiration date, your employer will have to pause or terminate your employment. They can't allow you to work without a valid EAD.
How Do You Renew an Employment Authorization Document?
You must file a new Form I-765 seeking renewal and pay the filing fee. USCIS recommends filing a new form six months before your Employment Authorization Document expires. This gives USCIS time to process your application before your EAD expires, which can prevent lapses in your ability to work.
There have been circumstances where USCIS has granted automatic EAD extensions for certain applicants. USCIS can grant automatic extensions when the backlog becomes unmanageable. They use this ability only when they cannot review Form I-765 and issue new EAD documents promptly.
This doesn't happen very often. It's best to promptly assume that your EAD won't be automatically extended and file a new Form I-765. 
How Do You Replace a Lost or Incorrect Employment Authorization Document?
If you lose your EAD or need to update the information, the process is the same as applying for a new EAD. If USCIS makes a mistake on your EAD, they'll replace it and waive the filing fees. 
Contact them when you receive the EAD with errors. They'll replace an EAD you never received without fee if you gave them the proper mailing address and instructions. USCIS will only replace the EAD without fee if they made an error in mailing or USPS failed to deliver the document to the proper address.
You must file again if you lost or damaged your EAD or are responsible for the error. You'll complete Form I-765 and check the box that says "Replacement of lost, stolen, or damaged employment authorization document NOT DUE to U.S. Citizenship and Immigration Services (USCIS) error."
Do You Need Help With Form I-765?
Form I-765 can take a long time to process. If you're eager to start your new job in the United States, you don't want your request to be rejected due to errors in the application process. Mistakes can push you to the back of the line and double your wait time. 
The experienced immigration legal team at Cohen, Tucker + Ades can help you complete Form I-765, fix errors with your first filing, or understand why you may have been denied an EAD. 
Contact us for a consultation if you need assistance.
Sources:
Check Case Processing Times | United States Citizenship and Immigration Services
4.4 Automatic Extensions of Employment Authorization and/or Employment Authorization Documents (EADs) in Certain Circumstances | USCIS
USCIS Provides Guidance on Employment Authorization Documents Based on Compelling Circumstances | USCIS