90 Day Fiancé: The K1 Visa Explained
What is the Process to Apply for a K-1 Visa?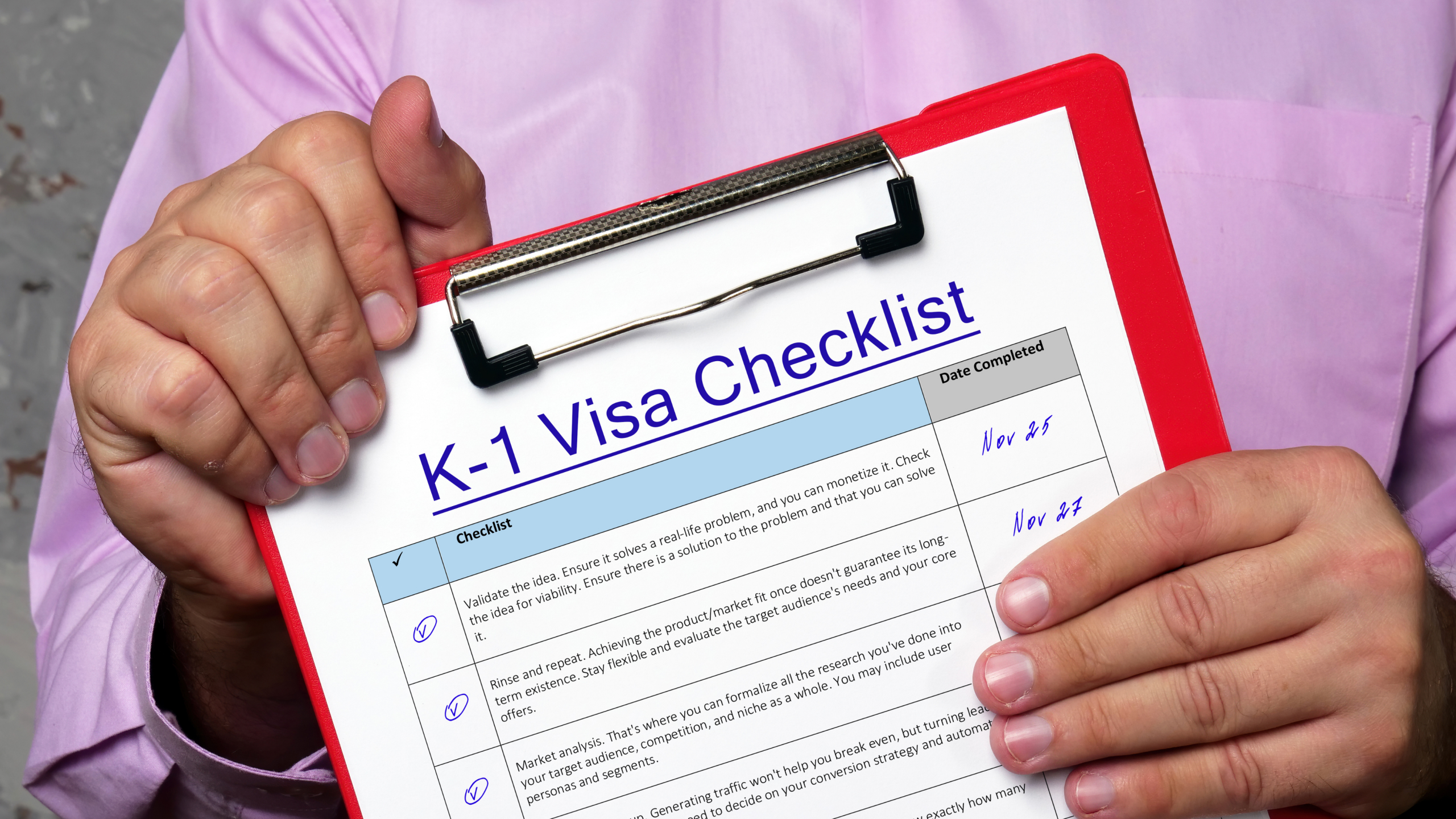 If you intend to marry someone who is a citizen of a different country, they may want to immigrate to the USA so that you can start your life together. A K1 visa is the first step to becoming a bona fide a lawful permanent resident.
After you obtain a K1 visa for your fiancé in compliance with immigration law, you can get married in the United States. After your marriage, your fiancé can become a permanent resident of the United States. Here's how the K1 Visa application process works.
What Is a K1 Visa? 
The K1 visa (also known as the Nonimmigrant Visa for a Fiancé) is a visa that an American citizen can obtain for their fiancé who lives abroad. The K1 visa will allow their fiancé to enter the United States for 90 days. During that time, the couple needs to become legally married.
After the couple is legally married, they can file for an adjustment of status for the immigrant spouse. The immigrant spouse becomes eligible for the issuance of a green card, which will allow them to stay in the United States as a permanent resident. 
Spouses who came to the United States on a K1 nonimmigrant visa are also eligible for a shorter path to United States citizenship.
What Are the Eligibility Requirements for a K1 Visa?
You need to file the paperwork for a K1 visa; specifically, a form called a petition for alien fiancé. All couples who can legally marry are eligible for a K1 visa, including same-sex couples. It doesn't matter if your fiancé is from a country where same-sex marriage isn't legal, as your marriage will take place in the United States.
Your fiancé is eligible to become a K1 visa holder if your relationship meets the following criteria.
You Are a U.S. Citizen
The person filing the K1 visa petition must be a United States citizen. You can be a native citizen (born in the United States) or a naturalized citizen (born overseas and once a foreign citizen but obtained full citizenship). 
Permanent residents (green card holders) cannot apply for K1 visas on behalf of their foreign-born fiancés. Permanent residents can either achieve United States citizenship, apply for a K1 visa, or marry their partner and petition for a spousal green card.
You Intend To Marry Within 90 Days
A K1 visa only gives you 90 days to become legally married. The K1 visa cannot be renewed or extended. 
If you don't get married within 90 days, the K1 visa recipient has to leave the country. If they overstay the expired K1 visa without getting married, they may not be allowed to return to the United States in the future.
The timeline will always be 90 days, and there are no exceptions. Many couples feel pressure because 90 days is sometimes too quick to plan and organize a formal wedding. Some couples choose to have a small, quick, private legal marriage ceremony to satisfy the requirements of the visa and have a symbolic wedding later. 
You only need to have a valid, completed marriage certificate to satisfy U.S. Citizenship and Immigration Services. Your civil marriage ceremony can be performed by anyone legally able to perform a marriage ceremony. 
You Are Both Legally Free To Marry
If one of you is still legally married, even if the marriage took place outside of the United States, you cannot get married. If either of you have been married before, you need to wait until your divorce is finalized to get a K1 visa.
You Have Met in Person Within Two Years
You aren't allowed to obtain a K1 visa for someone you have never met in person; there are limited exceptions if meeting would be anextreme hardship or where meeting in person would violate certain religious, cultural, or social norms.
You need to have seen your fiancé in person within the past two years. USCIS wants to see proof that you've physically been in the same room with each other. They accept photos of the two of you together and proof of travel like airline tickets.
The pandemic made international travel difficult, expensive, and unsafe for a few years. If you haven't seen your fiancé in person, fly to visit them and take lots of pictures together before applying for a K1 visa. 
What Is the K1 Visa Process?
The K1 visa process begins after you and your fiancé decide to become engaged. When you're sure you'd like to get married, you can file a petition for a K1 visa and start moving through the process. 
Petitioning
The first step is filing a petition for your alien fiancé. You can include their unmarried children from previous marriages, even if you are not the biological parent of those children. You can move on to the K1 visa application when the petition is approved.
The Visa Application
The K1 fiancé visa application will ask for a lot of specific information about your fiancé. Although the K1 visa is a non-immigrant visa, it effectively becomes an immigrant visa at the time of marriage. You'll need to fulfill many of the same requirements for an immigrant visa while applying for a K1 visa through the National Visa Center (NVC).
In addition to completed visa forms, your fiancé will need to submit several more required documents. These documents include a medical examination proving that they don't have any communicable diseases that may harm public health. The doctor will complete an immigration form that includes the medical exam results. 
If your future spouse has been married before, they need to provide official proof of divorce, proof of annulment, or a death certificate for their former spouse. 
Your spouse needs to provide documents that prove their identity. They will need to provide at least two photographs, a birth certificate, and a valid passport. 
You will need to provide a document called an Affidavit of Support that shows you are able to financially support your foreign spouse. It may be a while before they can obtain employment authorization if they choose to work in the United States. 
You'll have to provide financial documentation that shows that you meet the income requirements. Your income will be compared to the current poverty guidelines. Your income must be at least 100% of the HHS Poverty Guidelines for your household size to sponsor a foreign-born fiancé's petition.
Other Visa Considerations
People who have committed serious crimes are not eligible to receive K1 visas. The NVC asks that applicants provide a police record for the country where they currently live and every country they've lived in for six months or more since age 16. 
These police certificates should document the applicant's known criminal history or establish that they don't have a criminal history. 
The US Government will want to see proof of your relationship through supporting documents. This proof can come in the form of pictures of the two of you together, travel records to see one another, proof of financial support, and regular correspondence. The US Government wants to know that you've met in person to verify the legitimacy of your relationship.
You and your spouse must pay for the necessary documents and the filing fee when submitting completed paperwork to USCIS and the NVC.
Inspection
Your future spouse will have to submit to a visa interview at their local US embassy or consulate. A US consular officer will ask them questions about your relationship and their intentions.
It's illegal to marry someone for the specific purpose of helping them immigrate to the United States. USCIS and the US Department of State take marriage fraud very seriously. During the inspection phase of the application, the US Government will investigate the legitimacy of your relationship. 
Your fiancé may be asked personal questions about you to prove how well they know you. They may also be asked about their past relationships and international travel history.
It's okay if your fiancé cannot perfectly answer every obscure question about you. The US Government understands that relationships across borders are sometimes difficult. They're mostly concerned with the potential that your fiancé could be deliberately dishonest in an attempt to obtain permanent residency in the United States. 
USCIS and the US Department of State are very thorough. It's extremely unlikely that they'll mistake a legitimate relationship for fraud. 
They'll only become concerned: 
If your fiancé has a history of attempting to immigrate to the US or other countries
If they've had previous unsuccessful attempts to obtain a green card
If they've been accused of romance scams in the past
Or if there is evidence that they're presently involved in other relationships.
Marriage
After the inspection phase of the process, your K1 visa will either be approved or denied. You cannot file an appeal if the visa is denied after the processing time is complete. The decision is final. You can attempt to reapply or marry your spouse overseas. If the K1 visa is approved, your fiancé can enter the US so you can marry. 
When your fiancé's K1 visa is approved by the U.S. consulate, they can come to the United States. K1 recipients have 6 months from the date they were issued their K1 visa to come to the United States. 
When they arrive, they are authorized to stay for 90 days. You have to get legally married during this time period. If you don't, your fiancé has to return to their home country before their status expires.
A US citizen fiancé is only allowed to apply for two K1 visas. If the first marriage never happens or they divorce their first partner, they must wait at least two years before applying for another K1 visa, even if they're petitioning for the same person. They can never petition for another K1 visa after their second attempt.
It's important to only apply for a K1 visa if you're absolutely certain that you'll be able to get married within the required 90-day period. The policy leaves very little room for error or delay. If you're not sure you're ready, wait longer to petition for a K1 visa. 
Adjustment of Status
When you have a valid marriage certificate, your spouse can apply for an adjustment of status. This adjustment of status will change your spouse's status from non-immigrant to permanent resident of the United States. 
The foreign-born spouse will receive a conditional green card, which gives them permanent resident status, if the marriage was less than two years old when the adjustment of status application was approved. Your marriage is the foundation for this conditional green card. After two years, they can apply to remove the conditions on their green card and become a full permanent resident. 
If you divorce after your spouse receives their unconditional green card, they will be allowed to remain in the United States.
If you divorce before your foreign spouse's green card conditions are removed, USCIS will examine the situation to determine if your ex-spouse should be allowed to remain in the country. USCIS wants to make sure that people don't get married for green cards and become divorced as soon as they receive their green cards.
In cases of divorce relating to spousal abuse, foreign-born spouses who are victims of abuse are often protected from deportation. USCIS will also give special consideration to spouses who may face extreme hardship (like war or threat of serious danger) if they return to their home country.
Get Help With Your K1 Visa Petition
It's important to complete your K1 visa petition correctly. If you don't, your fiancé may be unable to come to the United States. Although you can still marry your fiancé and help them immigrate to the United States, the process is a lot more complicated and lengthy if you use a method other than the K1 visa method.
The experienced immigration lawyers at Cohen, Tucker, & Ades understand what USCIS is looking for. As immigration attorneys, we can help you complete your K1 visa application and finish the process by assisting your fiancé in adjusting their status to permanent resident. Contact us for legal assistance if you're engaged to someone who lives abroad.
Sources:
State Marriage Laws | Get Ordained ULC
Practice Advisory: Sham Marriages and Marriage Fraud: A Summary of Recent Case Law and 
Tips for Practitioners | Catholic Legal Immigration Network, Inc. (CLINIC)