What Is a USCIS Online Account Number?
How I Use My USCIS Online Account Number?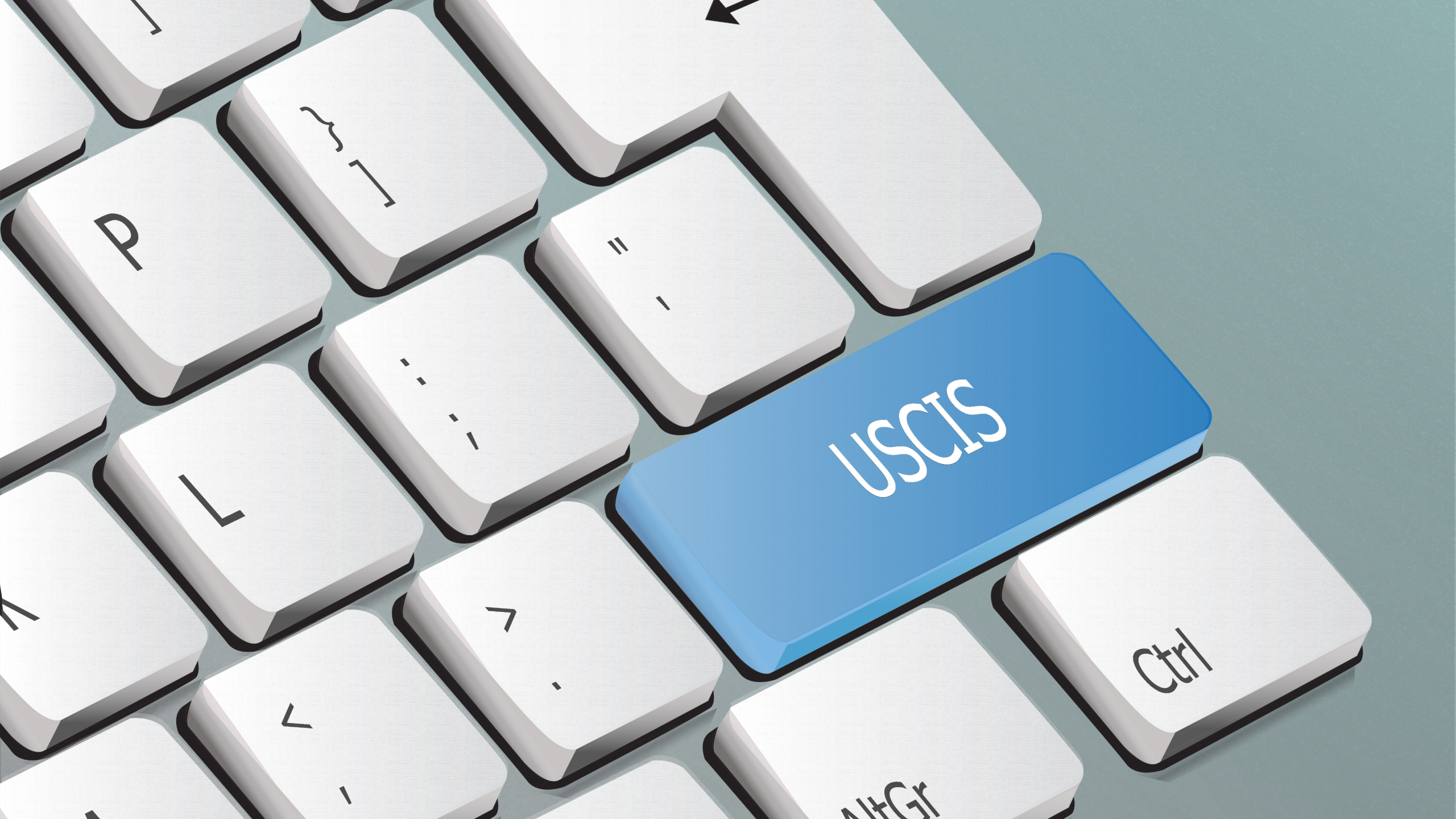 It's easy and convenient to check the status of your U.S. Citizenship and Immigration Services (USCIS) case online, and you can have on-demand access to the information you need when you use the USCIS website. 
Your USCIS online account number is your key to the info you need. Here are answers to some FAQs about your USCIS online account number, including how to find it. 
What Is the Difference Between Your USCIS Numbers?
USCIS will use many numbers and codes to keep track of your information and identity throughout the immigration process. Even though these numbers are different, they're all tied to the same identity — yours. They're used for specific purposes, like looking up certain types of information or accessing information on different platforms.
It's important to keep track of all the numbers USCIS assigns to you. You'll be asked to verify or use these numbers from time to time. You'll need to understand the difference and how to find these numbers.
Alien Registration Number (A-Number)
Your alien registration number is the official number that refers to your case when you register with USCIS. It's a lot like a driver's license number or a state ID number. Your alien registration number serves as proof of your identity and your status within the United States.
Your A-number is one of the most important pieces of information USCIS will issue to you. It will be printed on every official piece of paperwork given to you by USCIS, such as your Permanent Resident Green Card or Employment Authorization Document (EAD). It's usually in a box next to your name on the top right portion of official USCIS mailings. 
Green Card Number
Your green card number is the same as your alien registration number. If you have a green card and USCIS asks you for your alien registration number, you can copy it directly from your green card. 
Receipt Number
Your receipt number will be printed at the top of the paperwork USCIS gives you when they've accepted a petition or application you've filed. The receipt number serves as proof that you filed specific paperwork. It can also be used to check the status of your petition or application and ascertain that documents were received by USCIS. The receipt number begins with three letters, such as IOE, MSC, LIN, SRC, WAC, or EAC.
USCIS Online Account Number
If you have a USCIS online account number, it will be printed at the top of USCIS paperwork in a box labeled "USCIS Online Account Number." You can use this number to access your USCIS case information online, find the service center where your application or benefit is being processed, and track the status of pending paperwork or petitions you've filed with USCIS. 
Online Access Code
Your USCIS Online Access Code refers directly to accessing updates and notifications about a specific document. Every document you've filed with USCIS will be available through the USCIS online portal. The access code just makes it easier to find a specific piece of information quickly. It can be handy if you've filed a significant amount of forms or petitions with USCIS. 
USCIS Is Transitioning to an Internet Based System
USCIS has slowly been taking steps to make the U.S. immigration process more efficient. Like many government agencies, they've been a little behind the times with their use of technology. Thankfully, USCIS has started taking steps to transition to an online filing system for most immigration cases. 
At the moment, it isn't mandatory to use the internet to correspond with USCIS, check your immigration status, file immigration forms, or beyond. They're working to encourage people to use the my.uscis.gov site rather than mailing paper forms. As this option becomes more popular, USCIS may reduce the amount of physical paperwork they accept.
Eventually, you'll need to have a USCIS online account number to access your case status online, file USCIS forms, view your immigration history, and respond to USCIS. Transition moves slowly with USCIS, but it's best to expect that internet submissions will be the only way to communicate with USCIS at some point in the future. 
It's better to become compliant early, especially if you intend to permanently immigrate to the United States or file immigrant visa petitions for your family members.
Does Everyone Have a USCIS Online Account Number?
USCIS will usually assign everyone an online account number who has filed a petition or application, even if they've never signed up on the USCIS website. They also encourage people to check their case status and submit documents online rather than using the paper mail system or calling USCIS. They'll create a USCIS number for you to guide you to their online portal. 
If you've filed a petition with USCIS online, you were assigned a USCIS online account number at that point. Even if USCIS never reviewed your case or made a decision, the act of using their online portal automatically generated an online account number for you. That account number will stay the same for every petition you file. 
The only exception is for petitions filed abroad through consular processing. When you use a consular processing method, your paperwork is processed in a special way. You will have access to limited case status updates online. You'll need to contact the National Visa Center or your nearest U.S. Embassy for more detailed case updates.
How Do I Track Applications Filed Through Consular Processing?
If you're attempting to track the status of your case online and you filed through consular processing, you won't have a USCIS online account number. You won't be able to find information about the status of your case through the USCIS website. You'll need to log in through the consular processing website with the credentials provided to you at the time the National Visa Center received your petition or application. 
Do You Need to Use the Internet To Track the Status of Your Immigration Case?
USCIS is often working through a tremendous backlog. They're a small group of people with a lot of work to do, and they aren't always easy to get a hold of by phone. They would prefer that you don't call them unless they've specifically requested to speak with you on the phone or in the event of a serious emergency. As such, they'd prefer that you use self service tools to find the answers you need regarding questions about the status of your case.
USCIS is reliable when it comes to updating case status within their computer system. They use online systems to communicate with other branches of immigration and keep track of which cases they've reviewed. Your online account number allows you to have real-time access to that information as it becomes available. 
Logging into the USCIS website is the fastest way to find the information you're looking for. You can check the website at any time, even outside of business hours. Case information is regularly updated, so it's safe to trust that the information displayed on their website is current and accurate. 
What Else Can You Do With Your USCIS Online Account Number?
Tracking the status of your case is the most obvious use for your USCIS online account number; it also allows you to handle many important tasks relating to your immigration case. If USCIS sends you a request for evidence or asks for additional documentation, you can use your online account to submit documents and respond online.
USCIS requires that immigrants keep current and accurate contact information on file with USCIS. If you get a new phone and your number changes, USCIS needs to know about it. If you move into a new apartment, they need your current address. The easiest way to update this information is through the online portal. You can update info immediately with just a few clicks. 
How Can You Find Your USCIS Online Account Number?
Your USCIS online account number may be printed on documents USCIS sends you. If you can't find it on your paperwork, you can find it online.
Create an online account with USCIS if you don't already have one. If you didn't have a USCIS online account number before creating an account, one will be automatically assigned to you during the account creation process. If you already have an account, you have an online account number.
Your USCIS online account number will be displayed in the "profile page" section of your account dashboard. 
What Happens If You Lose Your USCIS Online Account Number?
You can't lose your USCIS Online Account Number because it will always be attached to your USCIS online account. USCIS will always have a record of your account number. 
If you're having trouble accessing your USCIS account, you can use the "forgot username" or "forgot password" tools to regain access to your account. Follow the prompts to reset your login credentials. When you regain access to your account, you'll be able to find your USCIS online account number by logging in and clicking "profile."
Do You Need Help With Your USCIS Case?
The experienced legal team at Cohen, Tucker + Ades can help you file paperwork with USCIS, check the status of your case, and navigate the U.S. immigration system. If you see a request for evidence or more information when you log into your USCIS account, we may be able to help you prepare and provide the documents USCIS needs to make a determination in your case. 
Contact us today for legal advice relating to your immigration case. 
Sources: 
Forms Available to File Online | USCIS
e-Request – Self Service Tools | USCIS
Citizenship and Immigration Services – Sign up for a USCIS Account | USCIS
NVC Processing | US Department of State | Bureau of Consular Affairs